Business & Corporate Law
Commercial clients trust Jacobs & Dembert, P.A. to navigate their organizations through the challenges of business and corporate legal matters. For two decades, we have advised individuals and companies on business formation, contractual agreements, acquisitions, and operational matters. We provide clients with a full range of legal services related to: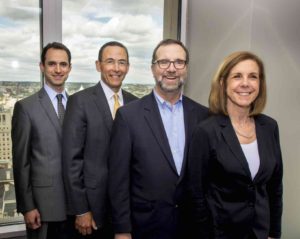 Business Formation
Due Diligence
Contract Review and Development
Breach of Contract Disputes
Stockholder Agreements
Employment Agreements
Operating Agreements
Partnership Agreements
Shareholder/Member/Partner Disputes
Financing Documents
Severance Agreements
We draw upon our years of experience  in business and corporate law to help our commercial clients achieve their goals. Our attorneys collaborate closely with our clients to understand their expectations and better address their needs.
Business Entity Formation, Corporate Governance, and Stockholder/Operating/Partnership Agreements
Of all the decisions that go into the launch of a new business, determining the most advantageous entity to form is one of the most important at the outset. We can help you weigh the various tax, legal and business advantages and disadvantages of operating as a limited liability company, S corporation, C corporation, joint venture, partnership or sole proprietorship. We can also assist with drafting corporate governance documents and stockholder/operating/partnership agreements to protect your organization, accomplish your goals and objectives and help avoid future legal disputes.
Contractual Agreements, Employment Agreements, Severance Agreements, Financing Documents and General Commercial Contracts
Once your business is formed, our attorneys provide advice and consultation on a number of operational issues, including employment agreements, severance agreements, and a broad range of commercial agreements that involve every aspect of business operations. In addition, we will review and negotiate all applicable financing documents for business entities. Contracts govern nearly every aspect of business, and having the counsel of a trusted and experienced business lawyer can help you avoid countless legal difficulties.
Business Acquisitions and Sales
The purchase or sale of a business creates a myriad of legal issues that must be navigated with a knowledgeable business attorney at your side. When acquiring or selling a business, you need to consider all of the business, tax and legal issues, including, but not limited to, sale/purchase of assets compared to sale/purchase of the entity interests. There is preparation that should be considered before embarking on a sale or purchase transaction. Legal advice is critical at the earliest stages, when   entering into confidentiality agreements as well as the initial term sheets or letters of intent. Too often, the first consultation with an attorney occurs after these preliminary events, when legal positions are already affected.